Contact Info
Big Frog of Tucson
Adrian Fernandez
2956 N Campbell Ave
Tucson, AZ 85719
Phone: 520-204-4972
Email:
yolandafc@bigfrog.com
Website:
www.bigfrog.com/stores/tucson-az
Photo Tour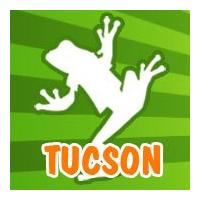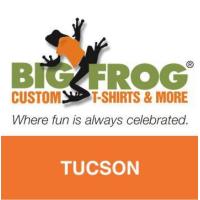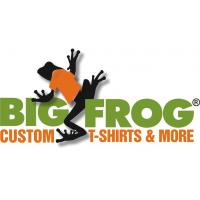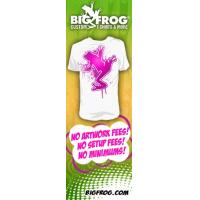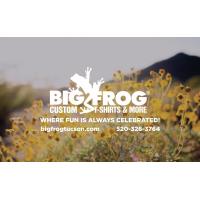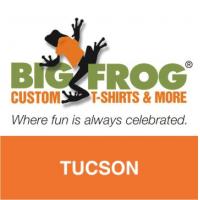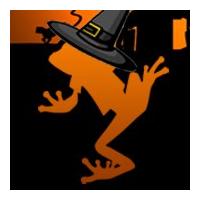 Hours of Operation
Monday - Friday 8AM to 5PM
About Us
We Create Un-frog-ettable Custom T-Shirt Designs
Big Frog designers will help you create fantastic t-shirt designs!
T-shirts are supposed to be comfy and casual, but it takes strategy and expertise to make something look so perfectly simple.
Fortunately, our designers are here to help!
Here are a few of the key things we consider in creating your perfect tee:
Colors
When it comes to T-shirts, colors sell. One of the first things people notice is the color of a T-shirt, so we make sure the color of the shirt you pick will appeal to its intended audience. Also, the color should connect with its purpose. When we're designing a T-shirt for a school or club, we often use a school color for the T-shirt itself. For a company retreat, the shirt could either be one of the corporate brand's colors or one of the retreat theme colors. And if we're creating T-shirts for a family reunion, we look for a color that connects with your family or the location of the event. You could even let family members vote for their favorite! Click here to view our product catalog.
Design Trends
We keep up with current design trends so your custom T-shirt will look up to date (although vintage looks are very hot right now, also!). If you look at popular T-shirt designs, you'll notice the fonts, messaging, graphics and even the size of images go in and out of style. We lean toward trendy and fun whenever possible!
Fonts
No matter what your purpose, we'll help you find a clean, easy-to-read font that will match your message. For example, if we are working on a humorous T-shirt design, we'll use a fun or playful font. If we're designing a corporate T-shirt, we'll lean toward a more classic font.
Decorating Method
The T-shirt or other apparel decorating method is an important decision. This is often based on budget, delivery time and time of garment. For fastest turnaround, we recommend, direct to garment (DTG) printing. For large orders over a few hundred items we may recommend screen printing, Ultra Print or embroidery. We have a great selection of T-shirts and other printable accessories, so visit your local Big Frog for help choosing the right custom garments and more for you and your group.